2020 Census Operations in Alaska
A Census employee checks geographic coordinates of a housing unit as part of the address canvassing operation for the 2010 census.

(Credit: U.S. Census Bureau)

This Winnebago Indian family in Wisconsin was asked over 32 questions by a census enumerator in 1910. Now, the form is much shorter — about 10 questions.

(Credit: U.S. Census Bureau)

Enumerators for the 1940 census traveled by dog team to reach some areas of Alaska. Alaska was enumerated in October 1939 for the 1940 census, and 72,524 people were counted here.

(Credit: U.S. Census Bureau via National Archives)

Clifton Jackson, a World War II veteran who was 89 at the time of this photo, was the first person to in the nation to be counted in 2010. His home is in Noorvik.

(Credit: U.S. Census Bureau)

U.S. Census Bureau Director Robert Groves launched a public awareness campaign that reminded parents to include young children on their 2010 census forms.

(Credit: U.S. Census Bureau)

Secretary of Commerce Gary Locke, Acting Deputy Secretary Rebecca Blank, and Census Bureau Director Robert Groves released the first set of 2010 census data Dec. 21, 2010.

(Credit: U.S. Census Bureau)

The 2010 census began in Noorvik. Alaska's remote villages are first to be counted so census takers can reach them before residents disperse for seasonal activities.

(Credit: U.S. Census Bureau)

Census workers hand delivered 2010 census questionnaires to 12 million housing units across the nation, mostly in rural areas where people do not receive mail at their homes.

(Credit: U.S. Census Bureau)

Large families helped contribute to the U.S. population's 16 percent rise between 1920 and 1930. The whole nation used to be counted by census takers going door to door.

(Credit: U.S. Census Bureau)

The 2020 count started in Toksook Bay Jan. 21. Local people were hired to go door to door to count people living there.

(Credit: U.S. Census Bureau)

Census 2000 started in Unalakleet. Alaska's remote areas are first to be counted.

(Credit: U.S. Census Bureau)

Census taker Agnes Farnsworth in Barrow in the 1950s with John John, his wife, his daughter Mary Gregory, and her children.

(Credit: Wien Collection, Anchorage Museum)
Ongoing → American Community Survey
Autumn 2019 → In-field Address Canvassing began in August and ended in October
January 2020 → Census Bureau's advertising campaign began
January 21, 2020 → Enumeration of Remote Alaska began in Toksook Bay
February 3, 2020 → Group Quarters Advance Contact began
March 12, 2020 → Response online at 2020census.gov and by telephone began
April 1, 2020 → 2020 Census Day
April 2, 2020 → Group Quarters enumeration began for facilities using administrative records to complete their count
May 4, 2020 → Update Leave operation resumed to 110,000 households in Alaska
June 14, 2020 → Update Enumerate operation in remote parts of Southeast Alaska resumes
July 1, 2020 → In-person group quarters enumeration begins and goes through September 3
August 11, 2020 → In-person follow-up begins for households that did not submit a Census form
September 3, 2020 → Enumeration at transitory locations begins at campgrounds, RV parks, marinas, hotels and motels
The Census Bureau adjusted most of these timelines May 1.
Complete the questionnaire online at my2020census.gov or view the paper questionnaire here.
The 2020 questionnaire asks respondents for basic demographic information, such as birth date, sex, and race. It doesn't ask for information about income, health, religion, citizenship, or voting history.
The Census Bureau's online questionnaire will be available through Oct. 31, but people can also respond by mail, telephone, or in person.
Telephone numbers to help people who speak languages other than English complete the 2020 Census questionnaire are online.
The Census Bureau not only counts everyone living in the U.S. on Census Day, it must also tie each person to the spot on the ground where he or she lives. This necessity drives Type of Enumeration Areas (TEA) delineation decisions.
Self-ResponseIn 2020, the Census Bureau plans to reach most households by mail. The Postal Services delivers mail to households in Self-Response areas, which include about 180,000 Alaska households in places such as Anchorage, Fairbanks, and Juneau. When a housing unit in these areas does not respond, census workers may follow up with additional mail or as many as six in-person visits.
Update LeavePeople living in medium-sized settlements without mail delivery, such as Valdez, Bethel, and Nome, will receive hand-delivered census materials at their home. These areas are called Update Leave areas; "update" means census employees verify, correct, or add the geographic coordinates of housing units as they deliver materials. In 2010, about 60,000 Alaska households were counted this way. When the Census Bureau does not receive a response from a housing unit in an Update Leave area, employees may follow up in person as many as six times.
Remote AlaskaPeople living in the most remote places in the country, including much of Alaska, will be counted in person. As with Update Leave areas, these places do not have at-home mail delivery.
In Remote Alaska areas, enumerators verify the location of each housing unit, knock on doors to conduct interviews about the number of people who live there, and get their work validated by a sworn-in local official. This process allows village leaders to review and certify the count for accuracy. These areas had about 30,000 housing units in 2010.
Update EnumerateUpdate Enumerate areas are counted in a similar way to Remote Alaska areas, except no village leader validates the count. When no one answers the door at these housing units, the enumerator does not follow up a second time and may seek information about the household from a neighbor or other proxy. In 2010, the Census Bureau used this method for about 4,000 households in sparsely populated areas of Southeast Alaska.
Households in any TEA may also be reinterviewed, because a sample of households are double-checked as a quality-control measure.
View the Census Bureau's map of TEAs for the 2020 Census here.
The U.S. Census Bureau uses residence criteria to determine where people are counted during each decennial census, in accordance with the concept of "usual residence," or where a person lives and sleeps most of the time. This is not always the same as their residence for tax purposes, voting residence, or preference. In a nutshell, the residence criteria say:
Count people at their usual residence, which is where they live and sleep most of the time.
People in certain types of group facilities on Census Day are counted at the group facility.
People who do not have a usual residence, or who cannot determine a usual residence, are counted where they are on Census Day.
Determining usual residence is straightforward for most people. However, some living arrangements make determinations less straightforward, such as homelessness, seasonal or second residences, hospitals, shared custody arrangements, college, military, and worker dormitories.
The 2020 criteria are basically unchanged from 2010, but the way they are applied changed for five residence situations.
Overseas military and civilian employees of the U.S. governmentThe 2020 Census will count military and civilian federal employees who are temporarily deployed overseas on Census Day at their usual home address in the United States, as part of the resident population, instead of at their home state of record. Military and civilian employees who are stationed or assigned overseas on Census Day, as well as dependents living with them overseas, will continue to be counted in their home state of record for apportionment purposes only.
Overseas federal employees who are not U.S. citizensThe 2020 Census will count any noncitizens who are military or civilian federal employees deployed, stationed, or assigned overseas on Census Day in the same way as U.S. citizens who are included in the federally affiliated overseas count.
Maritime/Merchant Vessel CrewsThe 2020 Census will count the crews of U.S. flag maritime or merchant vessels who are sailing between a U.S. port and a foreign port on Census Day at their usual home address, or at the U.S. port if they have no usual home address.
Juveniles in Treatment CentersThe 2020 Census will count juveniles staying in non-correctional residential treatment centers on Census Day at their usual home address, or at the facility if they have no usual home address.
Religious Group Quarters ResidentsThe 2020 Census will count people living in religious group quarters on Census Day at the facility.
For more information about the specific criteria and situations, please see Federal Register Rule 83 FR 5525. Census Bureau Memorandum 2018.04 also contains relevant information.
Local Update of Census Addresses (LUCA) is an opportunity for designees within local governments to review the Census Bureau's confidential list of residential housing units within their area before each decennial census. Participants may provide additions, corrections, deletions, structure point coordinates, and road updates to that list. In order to count everyone in the right place, the Census Bureau relies on a complete and accurate list of housing units in order to reach every place people are living. Local government participation in LUCA can help ensure an accurate count.
How local governments can prepare for LUCA:
Register to participate by December 15, 2017
Develop a strategy for your government's review
Identify local sources of address information or structure points
Ensure that your address list contains individual multi-unit structure identifiers (such as Apt 1, Apt 2)
Attend a LUCA technical workshop in fall 2017
The Census Bureau's LUCA website has up-to-date information about LUCA.
People living in on-base barracks and dormitories will be counted through a method called "facility self-enumeration" for group quarters. This means a census worker will train a point-of-contact for each military installation to distribute census questionnaires, collect them when complete, and return them to the census worker at an agreed-upon time.
People living in on-base housing units will be counted via Self-Response, Update/Leave, or Remote Alaska enumeration, depending on location. For details by area, see the Census Bureau's Type of Enumeration Area map.
Contrary to the Census Bureau's plan described in its 2020 Census Detailed Operational Plan for Group Quarters Operation, released Sept. 29, 2017, the Census Bureau will not use administrative records supplied by the Defense Manpower Data Center to enumerate on-base military barracks, dormitories, and housing units.
Updated Aug. 22, 2019
The purpose of address canvassing is (1) to develop a complete and accurate address list and spatial database for enumeration and tabulation, and (2) to determine the type and address characteristics for each living quarter.
For the 2010 Census, address canvassing field staff ("listers") traversed almost every block in the nation to compare what they observed on the ground to the Census Bureau's address list. Listers verified or corrected current addresses, added new addresses, and deleted addresses that no longer existed. Listers also collected GPS coordinates for each structure and added new streets to the list.
For the 2020 Census, the bureau plans to use new in-office canvassing methods and reduce in-field canvassing. In-office address canvassing uses empirical geographic evidence, such as imagery and comparisons of the Census Bureau's address list to partner-provided address lists, to assess and update the current address list.
In-office address canvassing will start with an imagery-based review to assess the extent to which the number of addresses on the bureau's address list is consistent with the number of addresses visible in current imagery. Changes between current imagery and older vintage imagery, which was captured around the time of the 2010 Census address canvassing operation, will also be assessed.
Areas identified as areas of growth, decline, undercoverage of addresses, or overcoverage of addresses during the review process will be further researched using other data sources, including online GIS viewers, parcel data, files acquired through ongoing geographic partnership programs, and commercial data. These other data sources will be used in office to resolve discrepancies, where possible. Areas that can't be resolved in office will become the universe of geographic areas to be worked during in-field address canvassing.
Currently, the Census Bureau predicts 35 percent of addresses in self-response areas will be worked in field.
In-field address canvassing is the process in which listers visit specific geographic areas to identify every place where people could live or stay, and then to compare what they see on the ground to the bureau's existing address list and either verify or correct the address and location information. For the 2020 Census, listers will also classify each living quarters as either a housing unit or a group quarters facility. Listers will knock on doors at every structure in an attempt to locate living quarters. If someone answers, the lister will ask if there are any additional living quarters in the structure or on the property. If the lister does not find anyone at home, the lister will update the address list as best he or she can by observation.
For more information, including a map of areas selected for in-field address canvassing, visit the Census Bureau's press kit about the operation.
The 2017 Census Test was an opportunity for the Census Bureau to test the feasibility of collecting tribal enrollment information from respondents. Areas with relatively high concentrations of people who identify as American Indian or Alaska Native, including Alaska, were oversampled in the test. However, only households with mailable city-style addresses were included in the sample.
The test was conducted in spring 2017.
Based on feedback the Census Bureau received, the bureau decided not to add a question about tribal enrollment to the 2020 Census questionnaire.
The images below show the content of the 2017 Census Test questionnaire.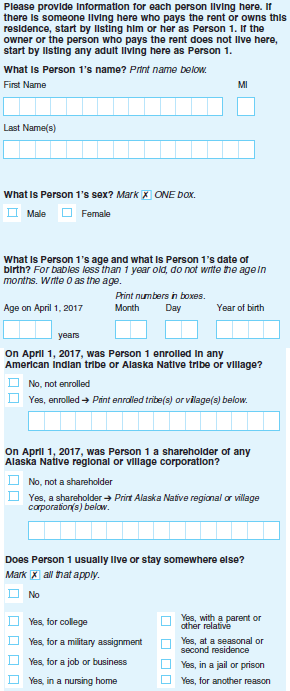 Complete Count Committees (CCCs) can form at any time.
View a list of Complete Count Committees here.
CCCs are volunteer committees that increase awareness of the decennial census and motivate residents to respond. Committee members represent a cross section of each community, including government agencies; tribes; education, business, nonprofit, and faith-based organizations; and the media. Using local knowledge, CCCs plan and implement census awareness campaigns that address the special characteristics of their communities. Local campaigns are designed to reach traditionally undercounted populations by stressing the importance of an accurate census count, including how data are collected and used.
The Census Bureau published a handbook for state and local officials who want to encourage people to participate in the 2020 Census. Nationwide, 11,800 CCCs formed for the 2000 Census, the majority of which were local government committees.
Since the 1980 Census, CCCs have played a major role in raising awareness of each decennial census. CCCs nationwide implement key activities, including:
Holding events, such as a Census Day "Be Counted" parades, that generate interest and participation.
Distributing census information and materials through websites, newsletters, and at events.
Partnering with organizations in their communities to include census promotion in their communications.
The Census Bureau aims to count everyone living in the U.S., including people experiencing homelessness. People are counted wherever they live on Census Day or where they are staying on Census Day if they have no permanent place to live. The bureau counts people at shelters, soup kitchens, and outdoor encampments through two operations: Service-Based Enumeration and Enumeration at Transitory Locations. However, there is no one definition of homelessness, and the decennial census questionnaire does not ask people if they are experiencing homelessness. After the decennial census, the Census Bureau publishes a count of people staying at emergency and transitional shelters on Census Day but not a count of people experiencing homelessness.
The Census Bureau plans to work with state, local, and tribal governments to get locations for soup kitchens, emergency shelters, outdoor encampments, and other places people may be staying on Census Day.
Results from the 2010 Census can be found online:
By law, all information that the Census Bureau collects about individuals is confidential. This includes responses on census questionnaires, names, addresses, and residential locations. After 72 years, personally identifiable information collected for a decennial census is released to the public.
For more information, visit the Census Bureau's website.
The primary use of decennial census counts is the apportionment of seats allocated to the states for the House of Representatives. This requirement is mandated by the U.S. Constitution.
Decennial census data at the census block level are used by governmental entities for redistricting.
The Census Bureau also uses decennial census results to determine the statistical sampling frames for the American Community Survey (ACS), which replaced the long form in the decennial census, and dozens of other surveys conducted by the Census Bureau. The results of these surveys are used to support important government functions, such as appropriating federal funds to states and local communities (an estimated $675 billion annually); producing monthly unemployment, housing vacancy, and poverty rates; and publishing health and education data.
Finally, decennial data play an increasingly important role in U.S. commerce and the economy. As people expand their use of data to make decisions at the local and national levels, they increasingly depend on data from the Census Bureau to make these decisions.