2020 Census Operations in Alaska
A Census employee checks geographic coordinates of a housing unit as part of the address canvassing operation for the 2010 Census.

(Credit: U.S. Census Bureau)

This Winnebago Indian family in Wisconsin was asked over 32 questions by a census enumerator in 1910. One hundred years later in 2010, the form was significantly shorter, with only 10 questions.

(Credit: U.S. Census Bureau)

Clifton Jackson, a World War II veteran who was 89 at the time of this photo, talks about being the first in the nation to be enumerated for the 2010 Census in his home in Noorvik, Alaska.

(Credit: U.S. Census Bureau)

U.S. Census Bureau Director Robert Groves launched a public awareness campaign that reminded parents to include their young children on their 2010 Census forms.

(Credit: U.S. Census Bureau)

Secretary of Commerce Gary Locke, Acting Deputy Secretary Rebecca Blank, and Census Bureau Director Robert Groves released the first set of 2010 Census data at a news conference on December 21, 2010.

(Credit: U.S. Census Bureau)

U.S. Census Bureau started the 2010 Census in Noorvik, Alaska. Alaska's remote areas are usually first to be counted so census takers can reach remote villages before residents disperse for seasonal activities.

(Credit: U.S. Census Bureau)

Census workers hand delivered 2010 Census questionnaires to roughly 12 million addresses across the nation, mostly in rural areas where people do not receive mail at the same location as their residence.

(Credit: U.S. Census Bureau)

Large families like this one helped contribute to the U.S. population's 16 percent rise between 1920 and 1930. The whole nation used to be enumerated by door-to-door census takers.

(Credit: U.S. Census Bureau)

All urban residents in the U.S. received a questionnaire by mail for the first time in 1960. Residents completed the questionnaire themselves and kept it until an enumerator came to collect the form.

(Credit: U.S. Census Bureau)

The U.S. Census Bureau started Census 2000 in Unalakleet, Alaska. Alaska's remote areas are usually first to be counted.

(Credit: U.S. Census Bureau)
January 2018 → Type of Enumeration Area determined for each place
April 2018 → Census questions delivered to Congress
July 2019 → Communications and advertising campaign begins
August 2019 → In-field Address Canvassing and Group Quarters operation begins
January 2020 → Enumeration of Remote Alaska begins
March 2020 → Door-to-door enumeration and Enumeration at Transitory Locations begins
April 1, 2020 → 2020 Census Day
April 2020 → Non-response Follow-up begins for households that did not submit a Census form
For the 2010 Census, residents in some of the densely populated areas of Alaska received their census forms in the mail. They submitted their forms by mailing them back the Census Bureau in a prepaid envelope. In 2020, households that receive a form through the mail will be able to respond online instead of mailing it back to the Census Bureau.
In many other areas in Alaska, Census Bureau employees left a 2010 Census form on each household's door step or door handle. Forms were left inside plastic bags with the Census logo and included a prepaid envelope for people to use to return their forms to the Census Bureau. In 2020, households that receive a form on the door will be able to respond online instead of mailing it back to the Census Bureau.
Households may also be contacted or visited more than once, because a sample of households are double-checked as a quality-control measure.
Local Update of Census Addresses (LUCA) started with advanced notification, which was mailed to highest elected officials in January 2017. Invitations will be mailed in July 2017.
LUCA provides an opportunity for designated representatives within local governments to review the Census Bureau's confidential list of residential addresses within their area before the 2020 Census. Participants may provide additions, corrections, deletions, structure point coordinates, and road updates to that list.
Possible sources of addresses that local governments can use for LUCA:
New construction and occupancy permits
E-911 address files
Planning and zoning records
Local utility records
Property tax records
How local governments can prepare for LUCA:
Submit Contact Information Update Form that was sent in January 2017
Develop a strategy for your government's address review
Ensure that your address list contains individual multi-unit structure identifiers (such as Apt 1, Apt 2)
Identify local address sources (see list above)
Attend LUCA promotional and technical workshops
The Census Bureau's LUCA website has lots of up-to-date information about LUCA. Here is a recording of Linda Akers Smith's March 16 presentation via Online With Libraries. Click here to see Linda Akers Smith's March 16 PowerPoint slides about LUCA.
The purpose of address canvassing is (1) to develop a complete and accurate address list and spatial database for enumeration and tabulation, and (2) to determine the type and address characteristics for each living quarter.
For the 2010 Census, address canvassing field staff ("listers") traversed almost every block in the nation to compare what they observed on the ground to the Census Bureau's address list. Listers verified or corrected current addresses, added new addresses, and deleted addresses that no longer existed. Listers also collected GPS coordinates for each structure and added new streets to the list.
For the 2020 Census, the bureau plans to use new in-office canvassing methods and reduce in-field canvassing. In-office address canvassing uses empirical geographic evidence, such as imagery and comparisons of the Census Bureau's address list to partner-provided address lists, to assess and update the current address list.
In-office address canvassing will start with an imagery-based review to assess the extent to which the number of addresses on the bureau's address list is consistent with the number of addresses visible in current imagery. Changes between current imagery and older vintage imagery, which was captured around the time of the 2010 Census address canvassing operation, will also be assessed.
Areas identified as areas of growth, decline, undercoverage of addresses, or overcoverage of addresses during the review process will be further researched using other data sources, including online GIS viewers, parcel data, files acquired through ongoing geographic partnership programs, and commercial data. These other data sources will be used in office to resolve discrepancies, where possible. Areas that can't be resolved in office will become the universe of geographic areas to be worked during in-field address canvassing.
Currently, the Census Bureau predicts that a quarter of addresses in non-Update/Enumerate areas will be worked in field.
In-field address canvassing is the process in which listers visit specific geographic areas to identify every place where people could live or stay, and then to compare what they see on the ground to the bureau's existing address list and either verify or correct the address and location information. For the 2020 Census, listers will also classify each living quarters as either a housing unit or a group quarters facility. Listers will knock on doors at every structure in an attempt to locate living quarters. If someone answers, the lister will ask if there are any additional living quarters in the structure or on the property. If the lister does not find anyone at home, the lister will update the address list as best he or she can by observation.
The 2017 Census Test was an opportunity for the Census Bureau to test the feasibility of collecting tribal enrollment information, among other objectives. Areas with relatively high concentrations of people who identify as American Indian or Alaska Native, including Alaska, were oversampled in the test. However, only households with mailable city-style addresses were included in the sample.
The bureau began collecting responses to the test March 20, 2017.
After the initial data collection, the Census Bureau recontacted 15,000 households that responded to the test to ask follow-up questions, in an effort to assess the validity of the tribal enrollment question.
For more information, see the Federal Register notice announcing the test and these presentation slides (PDF) from the bureau's Oct. 28, 2016, Program Management Review.
The images below show the content of the 2017 Census Test questionnaire.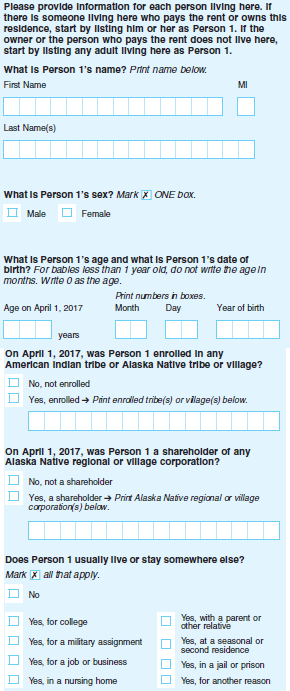 Complete Count Committees (CCCs) will start in 2019.
CCCs are volunteer committees that increase awareness of the decennial census and motivate residents to respond. Committee members represent a cross section of each community, including government agencies; tribes; education, business, nonprofit, and faith-based organizations; and the media. Using local knowledge, CCCs plan and implement census awareness campaigns that address the special characteristics of their communities. Local campaigns are designed to reach traditionally undercounted populations by stressing the importance of an accurate census count, including how data are collected and used.
Nationwide, there were 11,800 CCCs formed for the 2000 Census, and the majority of them were local government committees.
Since the 1980 Census, CCCs have played a major role in raising awareness of each decennial census. Once CCCs form and begin their work for the 2020 Census, CCCs nationwide will implement key activities, including:
Holding events, such as a Census Day "Be Counted" parades, that generate interest and participation.
Distributing census information and materials through websites, newsletters, and at events.
Partnering with organizations in their communities to include census promotion in their communications.
By law, all information that the Census Bureau collects about individuals is confidential. This includes responses on census questionnaires, names, addresses, and residential locations. After 72 years, personally identifiable information collected for a decennial census is released to the public.
For more information, visit the Census Bureau's website.
The primary use of decennial census counts is the apportionment of seats allocated to the states for the House of Representatives. This requirement is mandated by the U.S. Constitution.
Decennial census data at the census block level are used by governmental entities for redistricting.
The Census Bureau also uses decennial census results to determine the statisticalsampling frames for the American Community Survey (ACS), which replaced the long form in the decennial census, and the dozens of other surveys conducted by the Census Bureau. The results of these surveys are used to support important government functions, such as appropriating federal funds to local communities (an estimated $400 billion annually); producing monthly unemployment, crime, and poverty rates; and publishing health and education data.
Finally, decennial data play an increasingly important role in U.S. commerce and the economy. As people expand their use of data to make decisions at the local and national levels, they increasingly depend on data from the Census Bureau to make these decisions.