Alaska Local and Regional Information
Please note: There is an important distinction between the local/regional employment data and our "standard" employment series. Read more here.
Juneau, City and Borough of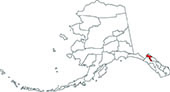 Juneau City and Borough is the largest city in Southeast Alaska and the third largest in the state. It is the state capital and relies heavily on government employment. Juneau is a transportation hub and a regional service center for the area.
Alaska Economic Trends Articles
2016
Residents age 16 and over
23,947
Residents employed
15,431
Female workers
7,750
Male workers
7,681
Workers age 45 and over
6,562
Workers age 50 and over
5,045
Total wages
$663,319,372
Sector employed in
Private
9,500
Local government
2,229
State government
3,702
Peak quarterly employment
14,143
Workers employed all 4 quarters
11,388
New hires
4,506
Unemployment insurance claimants
1,258
Source: Alaska Department of Labor and Workforce Development, Research and Analysis Section. Last updated September 2016.